Scorpion Air 8000mAh
Portable Power with Wireless Charging with Built-in Lightning ,Type-C, Micro USB and Self Charging cable
Qi Charger with Rechargeable Battery Integrates a high-power
Qi wireless charging transmitter and 8000mAh rechargeable battery; work as a Qi charging pad or a powerbank on the go.
Charge up to 3 devices simultaneously.
Super Compatible: Supports wireless charging for devices including iPhone12,12Pro,12Promax,12Mini,11,11Pro,11Pro Max,Xs, Xs Max, Xr ,X, 8, 8Plus Samsung Galaxy S21,S20,S10,S9,S8 Note20,10,9,8/Nexus 4/5/6/7, LG G3 and Other Devices.
Built-in Lightning , USB-C , Micro USB and self charging cable.
Free Charging :  Enjoy the freedom to charge the Qi devices, only need to talk your Qi - enabled phone on the pad, then rapid inductive charging without the need to plug USB cable to your phone.
Slim, lightweight design with improved grip.
Pass-through supports charging CHIC and connected devices simultaneously.
Data sheet
Weight

220g

Capacity

8000mAh

Size

157 x 75 x 15.1 mm

DC-IN

5V/2.0A(Max)

DC-OUT

5V/2.4A

Color

Black

Battery Type

Li-Polymer
No customer reviews for the moment.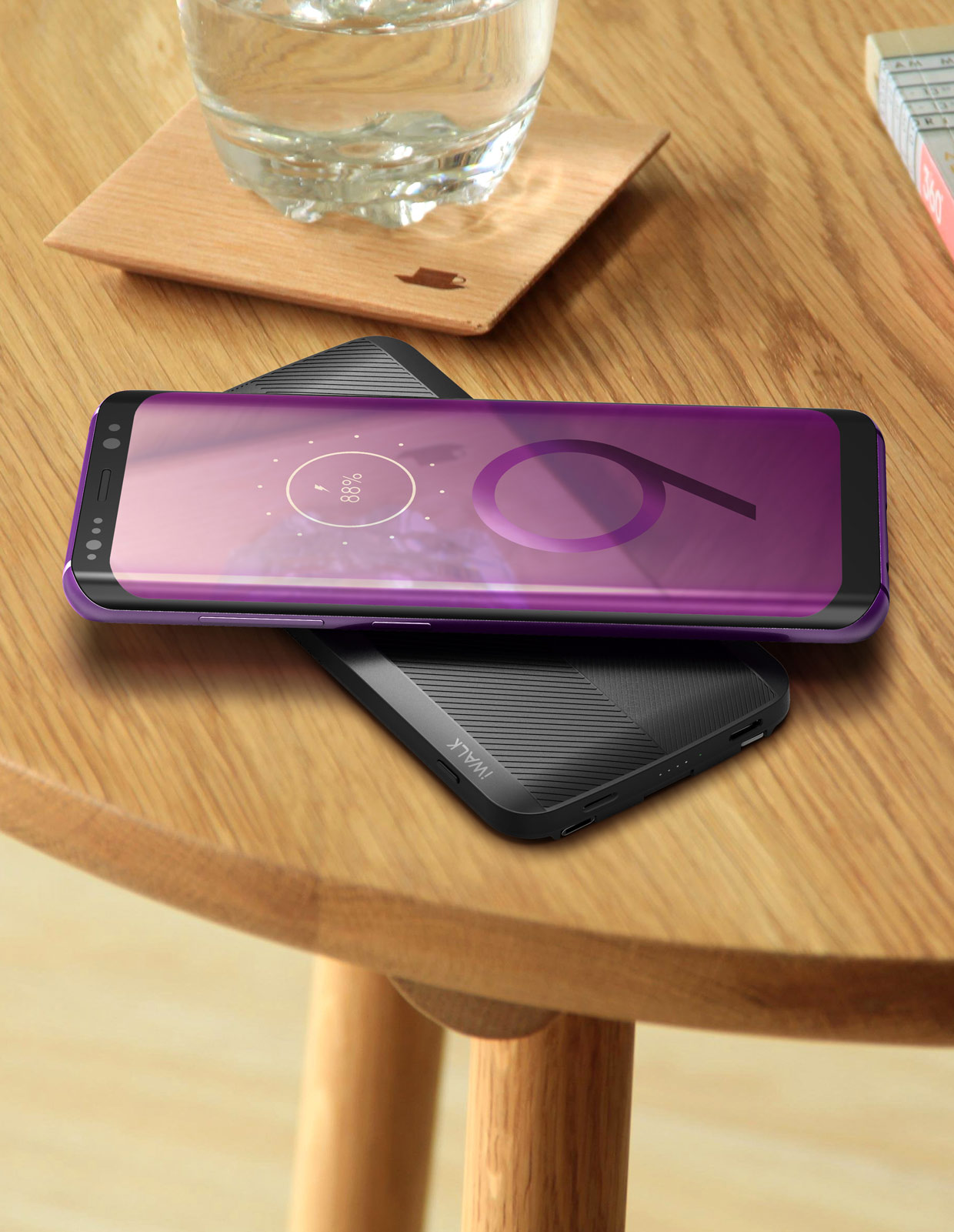 Apple: iPhone12,12Pro,12ProMax,12Mini, iPhone11,11Pro,11Pro Max, iPhoneXs, iPhoneXs Max, iPhone Xr, iPhoneX, iPhone8,iPhone8 Plus, iPhone7,iPhone7 Plus , iPhone6S, iPhone6SPlus, iPhone6, iPhone6Plus, iPhone5S,iPhone5C, iPhone5 ,iPad Mini, New iPad, iPad 2, iPhone, iPhone 2007, iPhone 3G, iPhone 3GS,iPhone 4, iPhone 4S,iPod 3G, iPod 4G, iPod Classic, iPod Color, iPod Mini, iPod Nano, iPod Nano 2G, iPod Nano 3G,iPod Nano 4G,iPod Nano 5G, iPod Nano 6G, iPod Photo, iPod Shuffle, iPod Shuffle 2G, iPod Touch, iPod Touch 2G,iPod Touch 3G, iPod Touch 4G, iPod Video
Quick Charge 3.0 :
Samsung - Samsung Galaxy S21, Samsung Galaxy S20, Samsung Galaxy S10, Samsung Galaxy S9,S9 Plus, Samsung Galaxy S8,S8Plus, Samsung Note10, Samsung Note9,Samsung Note8, Samsung Galaxy S7, Samsung Samsung Galaxy S5 (Japan Version), Samsung Galaxy S6, Samsung Galaxy S6 Edge,Samsung Galaxy S6 Edge+, Samsung Galaxy S7, Samsung Galaxy S7 Edge, Samsung Galaxy Note 4, Samsung Galaxy Note 5, Samsung Galaxy Note Edge
Sony - Sony Xperia Z2 (Japan), Sony Xperia Z3 Compact, Sony Xperia Z3,Sony Xperia Z3+,Sony Xperia Z4, Sony Xperia Z2 Tablet (Japan), Sony Xperia Z3 Tablet,Sony Xperia Z4 Tablet,Sony Xperia Z5, Sony Xperia Z5 Compact, Sony Xperia Z5 Premium
Xiaomi - Xiaomi Mi3, Xiaomi Mi4, Xiaomi Mi Note, Xiaomi Mi Note Pro, Xiaomi Mi4C
Asus - Asus Transformer T100, Asus Zenfone 2
Black Berry - Blackberry Priv
Motorola - Droid Turbo by Motorola
Eben - Eben 8848
Fujitsu - Fujitsu Arrows NX, Fujitsu F-02G, Fujitsu F-03G, Fujitsu F-05F
Google Nexus - Google Nexus 6
HTC - HTC Butterfly 2, HTC One M8, HTC One M9, HTC Desire Eye,HTC One remix
Kyocera - Kyocera Urbano L03
LeTV - LeTV One Max, LeTV One Pro
LG - LG G4, LG G Flex 2, LG V10
Moto X- Moto X (2014),Moto X Pure Edition,Moto X Style
Motorola - Motorola Droid Turbo 2
Panasonic - Panasonic CM-1
Ramos - Ramos Mos1
Sharp - Sharp Aqous Pad, Sharp Aquos Zeta, Sharp SH01G/02G
Vertu - Vertu Signature Touch
Yota - Yota Phone 2
ZTE - ZTE Axon Pro, ZTE Nubia My Plague, ZTE Z9

General :
All USB-Based devices. 


Compatible with Wireless Charger Pad

Apple:    iPhone12,12Pro,12ProMax,12Mini, iPhone11,11Pro,11Pro Max, iPhone XR, iPhone XS, iPhone XS Max, iPhoneX, iPhone8, iPhone8 Plus,
Huawei :  Huawei Mate Pro20,Mate20X, Mate20 RS Porsche Design
Samsung:   Galaxy S21, Galaxy S20,  Galaxy S10, Galaxy S9, Galaxy S9 Plus, Galaxy S8, Galaxy S8 Active, Galaxy S8 Plus, Galaxy S7, Galaxy S7 Active, Galaxy S7 Edge, Galaxy Note 10 ,Galaxy Note 9, Galaxy Note 8, Galaxy Note 5

BlackBerry:    Classic, Priv
Google:   Nexus 4, Nexus 5 2013, Nexus 6
LG:    G4, G6, G6 Plus, V30
Microsoft:   Lumia 950, Lumia 950 XL
Motorola:   Droid Mini, Moto Z, Moto Z Force
Nokia:   Lumia 1520, Lumia 735, Lumia 830, Lumia 920, Lumia 930
Sony:   Xperia XZ3