Secretary 10000PD
Power Bank Portable Charger with Built in Lightning & USB C cable, Battery Charger with QC & 18W PD, for iPhone Samsung Nintendo Macbook etc.Power Delivery Support
     Extremely Faster
Compact Power Bank: One of the Smallest and lightest 10000mAh portable chargers(105x62x24 mm) , easily store it into your pocket.Provides almost 2.3 iPhone X charges or 2 Samsung Galaxy S8 charges.

Portable Power Bank: Built in 2 cables of type-C, MicroUSB  and lightning connector

No need carrying any cables : One of the (105x62x24 mm) , easily store it into your pocket.

 
Designed with video stand 

and easily for watching video

Quickcharge Power Pack: Support QC 3.0/PD output and input,only takes 3.5 hours to fully charge itself with PD/QC wall charger.Support charging 3 devices simutaneosly
All-in-one Battery Pack:TSA-Approved, fit most of mobile devices( iPhone11,11Pro,11Pro Max,Xs,iPhoneXs, iPhoneXs Max, iPhone Xr, iPhone X / 8 / 8 plus / 7 / 7 plus / 6 / 6 plus / 6s / 6s plus / 5 / 5c / 5s / SE , Samsung Galaxy S6 / S6 edge+ /S7 / S7 edge / S7 edge+ / S8 / S8+ / S9 / S9+ / Note8 / Note6 / Note5 ,Lumia,HTC,Huawei,LG and more),Switch ,Macbook and iPad
1 year warranty.

Data sheet
Weight

200 g

Capacity

10,000mAh(3.7V)

Size

105 x 62 x 24 mm

DC-IN

Type C Port: 5V/2.0A,9V/1.5A Micro USBPort: 5V/2.0A

DC-OUT

Fast USB Port:5V/2.4A,9V/1.5A Type C cable:5V/2.0A Micro USB cable:5V/2.0A

Color

Black

Battery Type

Li-ion Battery
No customer reviews for the moment.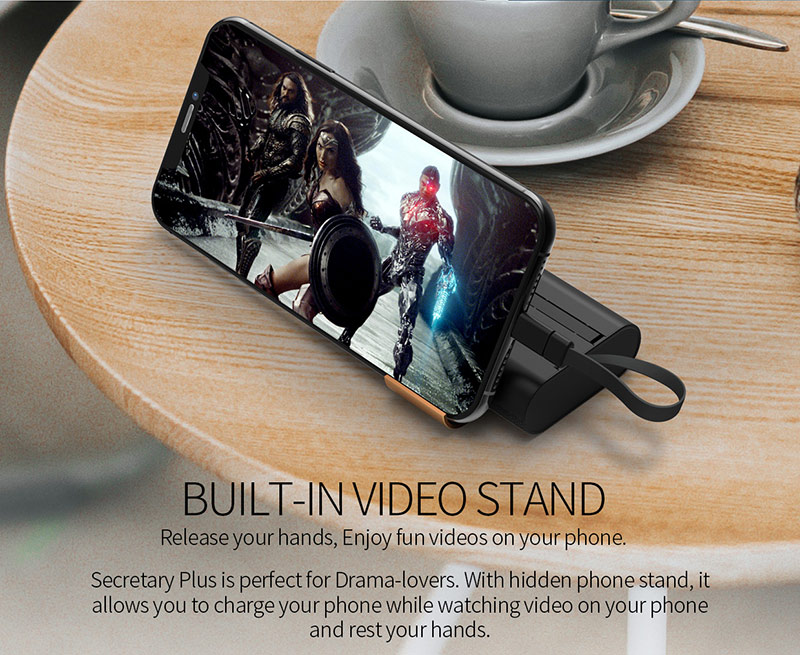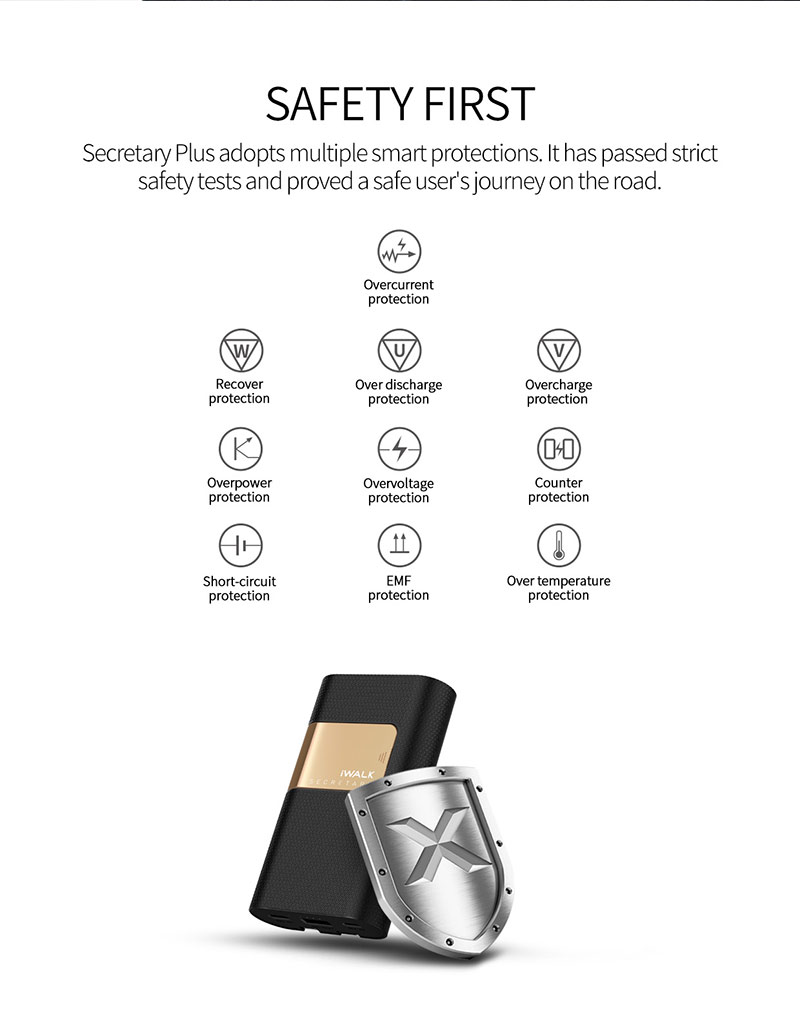 Apple: iPhone13,13Pro,13ProMax,13Mini,12,12Pro,12ProMax,12Mini, iPhone11,11Pro,11Pro Max, iPhoneXs, iPhoneXs Max, iPhone Xr, iPhoneX, iPhone8,iPhone8 Plus, iPhone7,iPhone7 Plus , iPhone6S, iPhone6SPlus, iPhone6, iPhone6Plus, iPhone5S,iPhone5C, iPhone5 ,iPad Mini, New iPad, iPad 2, iPhone, iPhone 2007, iPhone 3G, iPhone 3GS,iPhone 4, iPhone 4S,iPod 3G, iPod 4G, iPod Classic, iPod Color, iPod Mini, iPod Nano, iPod Nano 2G, iPod Nano 3G,iPod Nano 4G,iPod Nano 5G, iPod Nano 6G, iPod Photo, iPod Shuffle, iPod Shuffle 2G, iPod Touch, iPod Touch 2G,iPod Touch 3G, iPod Touch 4G, iPod Video
Samsung - Samsung Galaxy S21, Samsung Galaxy S20, Samsung Galaxy S10, Samsung Galaxy S9,S9 Plus, Samsung Galaxy S8,S8Plus, Samsung Note10, Samsung Note9,Samsung Note8, Samsung Galaxy S7, Samsung Samsung Galaxy S5 (Japan Version), Samsung Galaxy S6, Samsung Galaxy S6 Edge,Samsung Galaxy S6 Edge+, Samsung Galaxy S7, Samsung Galaxy S7 Edge, Samsung Galaxy Note 4, Samsung Galaxy Note 5, Samsung Galaxy Note Edge
Sony - Sony Xperia Z2 (Japan), Sony Xperia Z3 Compact, Sony Xperia Z3,Sony Xperia Z3+,Sony Xperia Z4, Sony Xperia Z2 Tablet (Japan), Sony Xperia Z3 Tablet,Sony Xperia Z4 Tablet,Sony Xperia Z5, Sony Xperia Z5 Compact, Sony Xperia Z5 Premium
Xiaomi - Xiaomi Mi3, Xiaomi Mi4, Xiaomi Mi Note, Xiaomi Mi Note Pro, Xiaomi Mi4C
Asus - Asus Transformer T100, Asus Zenfone 2
Black Berry - Blackberry Priv
Motorola - Droid Turbo by Motorola
Eben - Eben 8848
Fujitsu - Fujitsu Arrows NX, Fujitsu F-02G, Fujitsu F-03G, Fujitsu F-05F
Google Nexus - Google Nexus 6
HTC - HTC Butterfly 2, HTC One M8, HTC One M9, HTC Desire Eye,HTC One remix
Kyocera - Kyocera Urbano L03
LeTV - LeTV One Max, LeTV One Pro
LG - LG G4, LG G Flex 2, LG V10
Moto X- Moto X (2014),Moto X Pure Edition,Moto X Style
Motorola - Motorola Droid Turbo 2
Panasonic - Panasonic CM-1
Ramos - Ramos Mos1
Sharp - Sharp Aqous Pad, Sharp Aquos Zeta, Sharp SH01G/02G
Vertu - Vertu Signature Touch
Yota - Yota Phone 2
ZTE - ZTE Axon Pro, ZTE Nubia My Plague, ZTE Z9

General :
All USB-Based devices.