LUCANUS Air Auto
10W Fast Wireless car charger mount with Detachable Type-C USB Cable  support Quick charge , Automatic Clamp, additional dashboard and 360degree rotatable.
The Fast Wireless Car mount charger combined charger and phone holder in one unit.
10W Support Qi Wireless Fast Charging
Automatic Clamp with the sensor, When you put your phone into the sensor of car charger, the two sides will automatically extend and grip your phone. Easy and convenient one-hand operation.
Provided with Retractable Dashboard mount and Air vent bracket for installation , gravity and linkage design.
360degree rotatable ball joint enable to hold your phone in an perfect viewing angle while driving.
Protection and safety with the short circuit protection there is no risk of overheating or damaging your devices.
Compatible with Qi such as iPhone13,13Pro,13ProMax,13Mini,12,12Pro,12ProMax,12Mini,11,11Pro,Xs,Xs Max,XR,X,8,8+,SamsungS10,S9,S8,Note10,9,8,Huawei P20

Data sheet
Weight

187g

Size

111x96x96 mm

DC-IN

DC 5V/2A 9V/1.67A

DC-OUT

10W/7.5W/5W

Compatible with

Quick Charge
No customer reviews for the moment.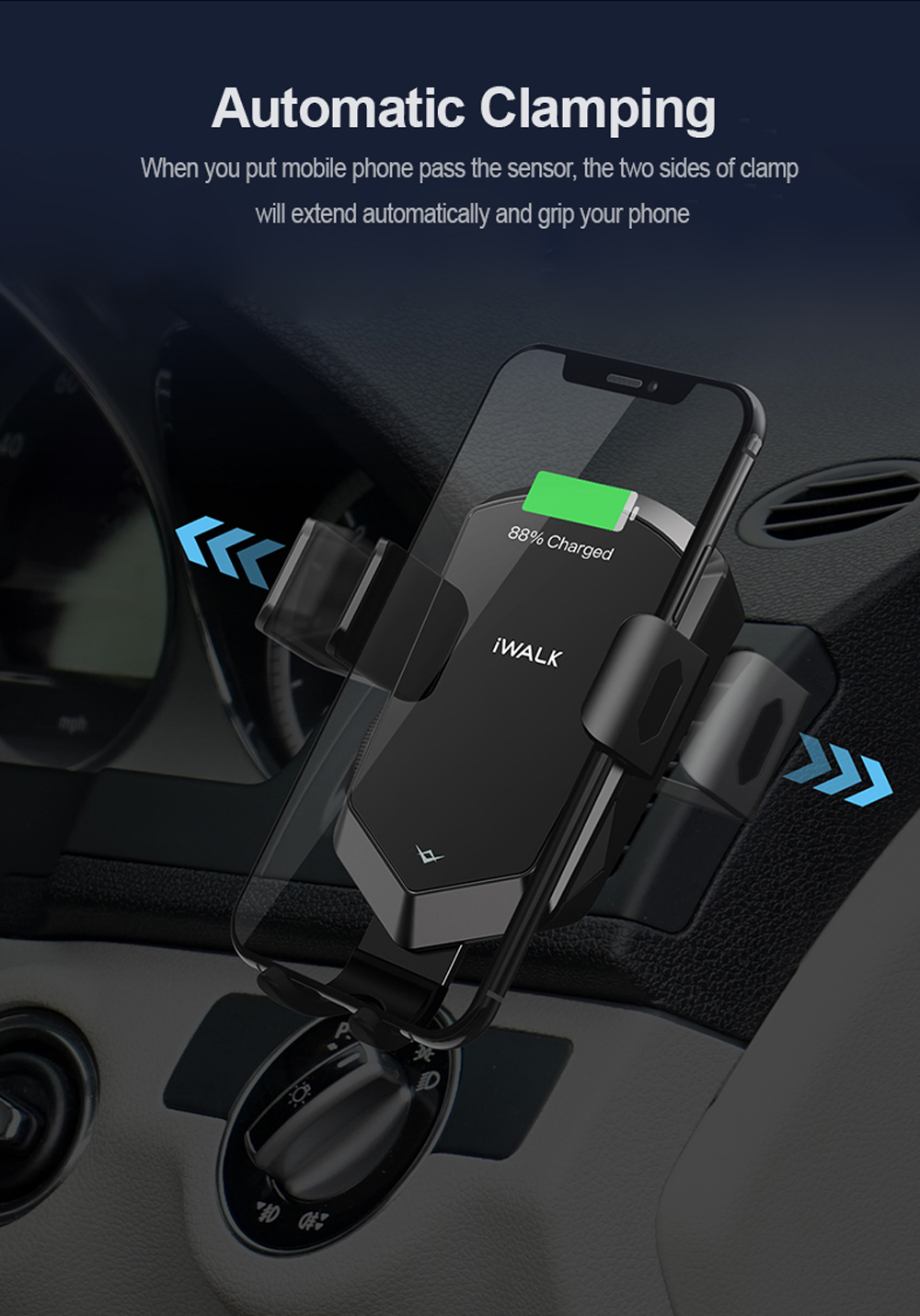 Apple:  iPhone13,13Pro,13ProMax,13Mini,12,12Pro,12,ProMax,12Mini,iPhone11,11Pro,11,ProMax,iPhoneX,Xs,XsMax,Xr, iPhone8,iPhone8 Plus
Samsung: 
Galaxy Series : Galaxy S21, Galaxy S21 Plus, Galaxy S21 Ultra, Galaxy S20, Galaxy S20 FE, Galaxy S20 FE 5G, Galaxy S20 Plus, Galaxy S20 Ultra, Galaxy S10, Galaxy S10 5G, Galaxy S10 Lite, Galaxy S10 Plus, Galaxy S10e, Galaxy S9, Galaxy S9 Plus, Galaxy S8, Galaxy S8 Active, Galaxy S8 Plus 
Note Series : Galaxy Note 20, Galaxy Note 20 5G, Galaxy Note 20 Ultra,Galaxy Note 10, Galaxy Note 10 Lite, Galaxy Note 10 Plus, Galaxy Note 10 Plus 5G, Galaxy Note 9, Galaxy Note 8, Galaxy A21, Galaxy A41,Galaxy Z Flip, Galaxy Z Flip 5G
Huawei: P30, P30 Pro, P40, P40 Lite, P40 Pro
Sony - Xperia PRO, Xperia XZ3
Asus - Asus Transformer T100, Asus Zenfone 2
Black Berry - Blackberry Priv
Motorola - Droid Turbo by Motorola
Eben - Eben 8848
Fujitsu - Fujitsu Arrows NX, Fujitsu F-02G, Fujitsu F-03G, Fujitsu F-05F
Google Nexus - Google Nexus 6
HTC - HTC Butterfly 2, HTC One M8, HTC One M9, HTC Desire Eye,HTC One remix
Kyocera - Kyocera Urbano L03
LeTV - LeTV One Max, LeTV One Pro
LG - LG G4, LG G Flex 2, LG V10
Moto X- Moto X (2014),Moto X Pure Edition,Moto X Style
Motorola - Motorola Droid Turbo 2
Panasonic - Panasonic CM-1
Ramos - Ramos Mos1
Sharp - Sharp Aqous Pad, Sharp Aquos Zeta, Sharp SH01G/02G
Vertu - Vertu Signature Touch
Yota - Yota Phone 2
ZTE - ZTE Axon Pro, ZTE Nubia My Plague, ZTE Z9

General :
All USB-Based devices.